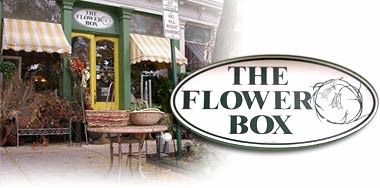 / / /
Clinton Jewelers
---
---
Address
11 West Park Row
Clinton, NY 13323
Phone: 315-853-1556
Hours: Mon. and Wed.: 9:30AM-5:30PM
Tues., Thurs.-Sat.: 10:00AM-6:00PM
---
---
We are a full-service floral company open for your every day floral needs, as well as event planning for parties, weddings, brunches, showers, dinners, openings and decorating for everyday needs and holidays.
---
---
THE FLOWER BOX
SHOWCASE
---
---
I really want to let you know how much I appreciated your great work at my wedding in November. Everything was beautiful, and went off without a hitch!
Thanks again,
Sue M.
---
You said that you would make the flowers so beautiful at my daughter's wedding that everyone would remember them. THAT YOU DID!!! I have never had so many compliments- our relatives and friends were just amazed at how beautiful they were!
You have a wonderful gift in flower arrangements and choosing the right flowers for the right person.
Thank you for making our daughter's wedding so very very special.
Peg M.
---
I want to thank you for the lovely flower arrangements for my husband's 50th birthday. So many of our guests complimented them. I just wanted you to know how much I appreciated your artistry- it really made the party even more special.
Thank you again!
Mary P.
---
In a word; Elegant. The flowers were everything that my daughter and I had imagined and more. You had a feel for the entire day and made it all come together. Your creativity and talent shone through each and every piece that you put together.
Trying to plan a wedding from as far away as we had was no easy task, but one that I might add, was made very much easier dealing with you and your staff.
I thank you for all your time, your patience and your professionalism.
Most Sincerely,
Alice C.
---
I can not thank you enough for MAKING my wedding so magical. I felt like a fairy tale princess in a beautiful garden; exactly what I wanted! I can not describe how it felt to make my grand entrance through the archway...I was in a movie. So many of my friends said they felt like they were in another world. You added your heart and soul to this project and that is something I will never be able to repay you for. Thank you for making me feel so beautiful and proud.
Jamie W.